Sooo, this item has changed a lot, i've thought we could speak about it.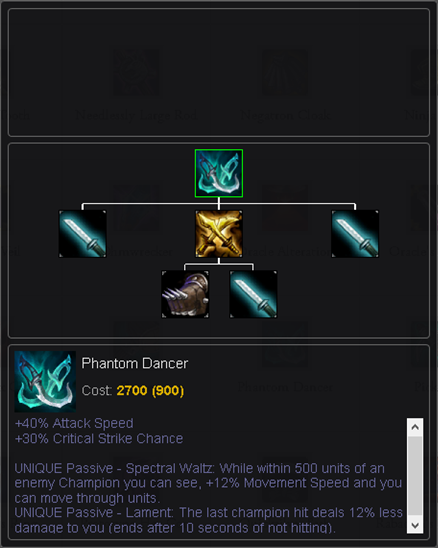 What amazes me is the spectral waltz passive. it fits nice with the second passive, unless the fact that phantom dancer usually is taken by.. ADCs?
Actually, ADCs had the choice between statikk and phantom dancer, all in all. Now there is many more choices like firecannon or runnan. But which adc do have a range of 500 units ? I know graves does, but I can't mention another one (even vayne has a higher range 525 I think).
My point is that most ADCs don't fit well with this item, as their max attack range (which is the most often used against ennemy champion) is too high. So in laning phase, or in a chase, they won't get this pretty nice speed buff.
I'm not saying that this item is now bullocks for ADC, but that graves will be the most able to use it fully.
AND ! I also think that this both passive shall trigger very nicely for... a melee toplaner : irelia, xin zhao, gankplank...
all those who can use crit and attackspeed.
What do you think ?
Admin




Posts

: 56


Join date

: 2015-11-16


Age

: 22


Location

: NORMANDY



When it comes to a chase, even adcs can make great use of it as you can just keep yourself within 500 range of the chased one (it's no problem as chase means you have the advantage and being close is no problem).

Apart from that I recently thought about it and also came to the conclusion it might be superior for certain toplaners nowadays.
What about Fiora, Nocturne? Rengar?
For Irelia, Xin Zhao and Gankplank it seems nice indeed.

But I don't really play toplane (except Riven and some mages) so I can't really tell if it's worth to include it in the build.
Admin




Posts

: 46


Join date

: 2015-11-19


Age

: 24


Location

: Berlin



Well in fact, when you chase, you are rarely fast enough to keep clicking on the ground between 2 autohits, to keep in a shorter area than your range. mostly, especially with ADCs, you catch the target back up, you hit it. By hitting, you lost a little distance, so you keep running, you catch back up, and hit as soon as it's in range, etc. so in fact, in chase you mostly remain in your max range distance. That's what I meant. Indeed, it's possible to remain within 500 units, but it's quite hard, and it's also difficult to guess how far from the target 500 units means.
so yes, i think the champion you said would fit nice. i think shaco would also do nicely with a phantom dancer, pauline

.
true, it wouldn't work well with swain or riven i think. xD
Admin




Posts

: 56


Join date

: 2015-11-16


Age

: 22


Location

: NORMANDY



Similar topics
---
Permissions in this forum:
You
cannot
reply to topics in this forum